This 13 day Bhutan tour on the Himalayan, the new dual sports motorcycle from Royal Enfield is designed such that you spend most of your time exploring the best the country has to offer. Apart from the riding, this tour includes a trek to the famous "Tiger's Nest" monastery. But planning a ride to Bhutan is not easy by any means due to its strict tourism policy and the limited number of hotels. This is where we step in with our experience so you can call your motorbike ride to Bhutan as the "Ride of My Life".
Bhutan due to its strict tourism policy and the limited number of hotels has to be planned well in advance. Please let us know as soon as you are sure, as for this tour, we will not be able to take bookings at the last moment.
2018 Tour Details
Duration: 13 days, Siliguri to Guwahati
Rider: INR 74,990
Pillion passenger: INR 64,990
Booking amount: INR 10,000
Bookings for the tour close once the required number of riders is met

2018 Tour Status
BH1 : Nov 11th to Nov 23rd-

FULLY BOOKED
Documentation requirements
For Indian Nationals:
You will need to have the following documents for the immigration formalities at the Bhutan border.
Valid Indian Passport (original + 5 photocopies)
Valid Indian motorcycle driving license (original + 5 photocopies)
5 passport-size photographs
For Foreign Nationals:
Valid Passport (original + 5 photocopies)
Valid motorcycle driving license (original + 5 photocopies)
Multiple entry Indian visa (you will be re-entering India towards the end of the tour)
5 passport-size photographs
Tour Price inclusions
Stay on twin-­sharing(double-occupancy) basis
Royal Enfield Himalayan Dual-Sport 411 cc motorcycle
Dinner and breakfast on all days
All Bhutan permit and Motorcycle fees
Experienced English speaking road captain
Support vehicle for carrying luggage and other essentials
Mechanic throughout the tour
All tolls / entry fees
Tour price exclusions
Official USD 2,500 permit fees of Bhutan (for foreign nationals only)
Your travel to Siliguri and from Guwahati
Lunch on all days
Fuel for the ride
Snacks, beverages (bottled water, juice etc)
Any spares you consume during the ride
Refundable security deposit for the motorcycle: INR 10,000
Optional single-occupancy add-on: INR 44,000
Optional rental for helmet, knee guards and magnetic tank bag
Anything not mentioned in the Inclusions section
Day wise route plan
Day 1
Nov 11
Sunday
Arrival in Siliguri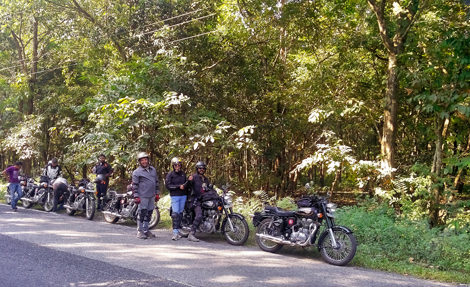 After your arrival at our designated hotel in Siliguri, we head out for a short ride so that you test the motorcycle you would be riding for the rest of the tour. While the mechanic makes final adjustments according to your riding style, the road captain briefs you about the entire ride.
Day 2
Nov 12
Monday
Siliguri to Phuntsholing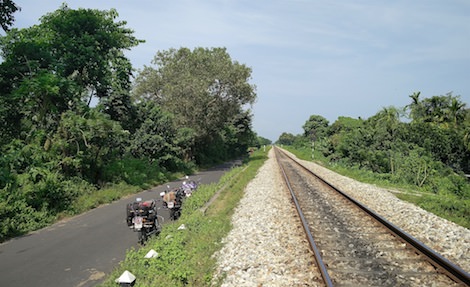 Today we kick-start the Bhutan tour on a smooth National Highway that passes through paddy and tea plantations. After 150 kms, it is Kuzuzampola Bhutan! While but a gate separates Bhutan from India, your senses will register the difference between the two countries instantly. We first halt at the immigration office to get permits sanctioned for the tour. Post the permit formalities, you are free to explore the town of Phuntsholing, its bustling markets and the local cuisine.
Day 3
Nov 13
Tuesday
Phuntsholing to Paro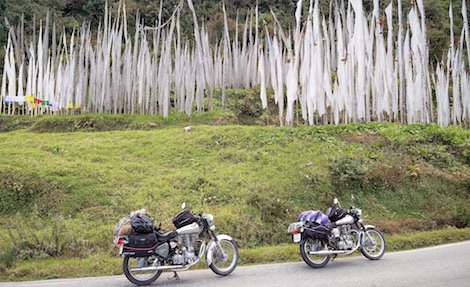 As soon as we leave Phuntsholing, the serene mountains of Bhutan greet us. The ride will take us through mesmerizing landscapes, forested mountains and lush valleys. The architecture of buildings in Bhutan is striking and will immediately capture your attention. As we close in towards Paro, the roads become broader and straighter. The view of prayer flags and three pagodas at Chuzom where the Paro river meets the Thimphu river marks our entry into Paro valley. Our night stay is at a hotel in the ancient city of Paro.
Day 4
Nov 14
Wednesday
PARO - TREK TO TIGER'S NEST/ RIDE TO CHELE LA PASS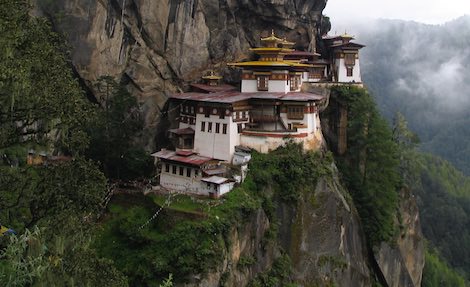 Today you have the option to ride to Chele la (3988 m/ 13084 ft), the highest pass in Bhutan or trek to the famous Taktsang Palphug Monastery, also known as Tiger's nest monastery. The monastery stands on the edge of a cliff and offers a beautiful view of Paro valley. A word of caution - The trek is over steep slopes and dusty paths paved in the forest concluding with 700 steps. While it can be strenuous for some, the view from the top is extremely rewarding. You can choose to walk or hire a pony (only till half-way). The trek will take approximately 5-6 hours in total.
Day 5
Nov 15
Thursday
Paro to Thimphu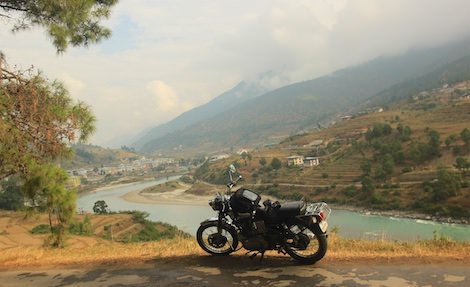 We leave early in the morning for a short ride to Thimphu via Chuzom where you will see the confluence of the Paro and Thimphu rivers. Thimphu being the capital of Bhutan offers a taste of city life in this nature-loving country. Once there, we head out to see the best city has to offer - ancient monasteries, royal palace and the majestic statue of Buddha giving a breathtaking view of Thimphu city.
Day 6
Nov 16
Friday
THIMPHU TO PUNAKHA VIA DOCHU LA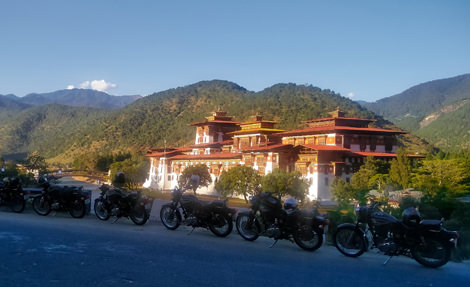 We leave early for Punakha with the standout of the day being Dochu la Pass. The pass is 10,171 ft high and has a concentration of 108 memorial Chortens. After a short break at the pass we ride down towards Punakha amidst lush green trees and pristine mountains.The must visit place at Punakha is Punakha Dzong, one of the oldest dzongs in the country. After visiting Punakha Dzong, we retire for the day and enjoy dinner amidst sounds of the river adjoining the hotel.
Day 7
Nov 17
Saturday
PUNAKHA TO PHOBJIKHA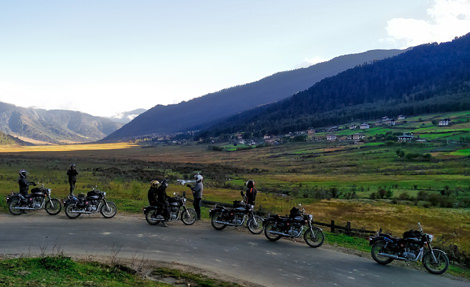 Today's ride comprises of cruising through patchy mountains with hairpin loops and curves. Just before Pele la pass, we turn towards Phobjikha valley. This breathtaking valley is marked by herds of yak that can be seen grazing the paddy fields. The valley is famous for being the winter home of black necked cranes that fly all the way from Tibet. The ride here after the mountain roads is a refreshing change and offers an indescribable experience.
Day 8
Nov 18
Sunday
PHOBJIKHA - Rest Day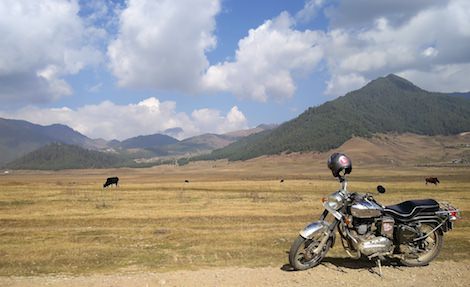 Phobjikha is stunningly beautiful, that is why we have kept one more day here, so you can go for rides or on a leisure walk on the numerous small roads, the valley has to offer.
Day 9
Nov 19
Monday
PHOBJIKHA TO JAKAR (BUMTHANG)
The road is initially flat and then it starts climbing towards Pele la Pass at a height of 12,210 ft. The descent is marked by muddy roads where reconstruction/ widening of roads is underway. The ride to Bumthang Valley is a steady climb as we cross two more passes, with Yutong La being the first at an altitude of 11,155 ft. As we head downwards, the road is marked by beautiful conifer trees on either side. The landscape then breaks open into the beautiful Chumey valley. The ride further ascends eastwards towards Jakar via Keke la Pass.
Day 10
Nov 20
Tuesday
JAKAR TO MONGAR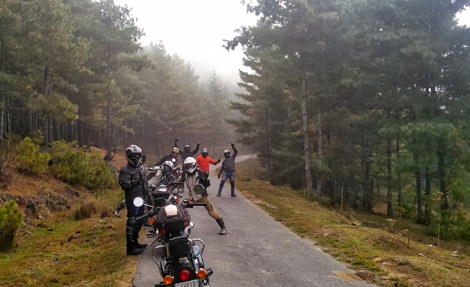 The day starts early today since we have a long distance to cover. We cross Sertang la pass (11,778 ft) and descend to Ura, a picturesque village. As we enter the National Park, we ride through overhanging cliffs and cedar trees before reaching Thrumshingla Pass (12,303 ft). This marks our entry to Eastern Bhutan. The landscape changes quite dramatically as we descend, with steep roads clinging to the side of rock cliffs, several waterfalls and streams on the road.
Day 11
Nov 21
Wednesday
MONGAR TO TRASHIGANG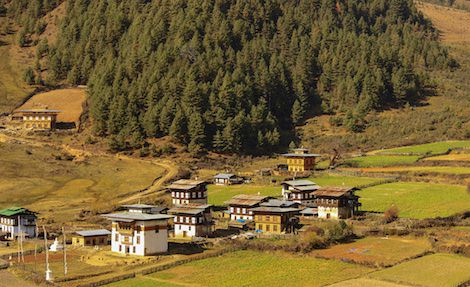 The day begins with a beautiful sunrise view from the top of the hill at Mongar. Post breakfast, we start our journey through blue pine forests on a road clinging to one side of the cliff. This leads us to Kori la pass at a height of 7,840 ft through dense a forest of Rhododendron trees. The descend from Kori la leads us through corn and mustard fields to numerous switchbacks called the Yadi loops. The second half of the day is kept for local sightseeing.
Day 12
Nov 22
Thursday
TRASHIGANG TO SAMDRUP JONGKHAR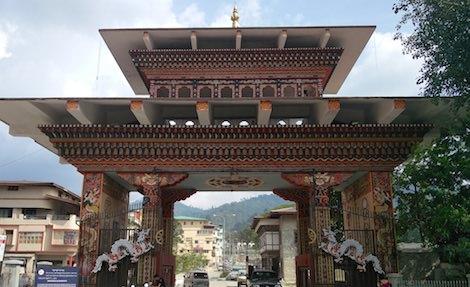 The ride today marks the last day of Bhutan and before we bid goodbye to the beautiful country, it offers up a few more surprises. The ride takes us through occasional waterfalls and three passes that open up into beautiful valleys. The road indeed puts one in a trance. Views here are captured better in memory than on film. Our overnight stay is at Samdrup on the Bhutan - India border, in a basic but clean guesthouse.
Day 13
Nov 23
Friday
SAMDRUP JONGKHAR TO GUWAHATI & DEPARTURE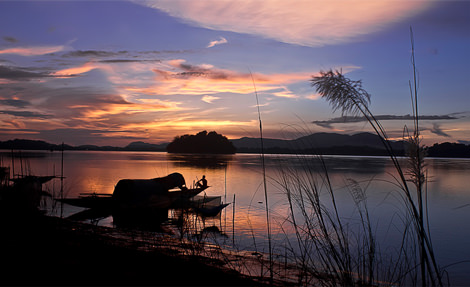 We start early today and after completing the immigration formalities at the border, enter back into India and say bye-bye to Bhutan. The journey on the plains is easy on the motorcycle, but heavy on the heart. We reach Guwahati by noon, where we will have few rooms reserved before you freshen up and depart for your evening flight from Guwahati.