Choose this tour if it is your dream to cover Ladakh and the Manali­-Leh highway
This eight day motorcycle tour covers the most scenic highway in the world, the 475 km long Manali-Leh highway. It also covers the pristine Pangong Tso lake and the three highest motorable passes in the world. The tour is designed such that you get properly acclimatized to the high altitude conditions of the region.
2018 Tour details
Duration: 8 days, Leh to Manali
Rider: INR 39,990
Pillion passenger: INR 34,990
Booking amount: INR 10,000
Bookings for the tour close once the required number of riders is met

Tour Price inclusions
Stay on twin-­sharing(double-occupancy) basis
Royal Enfield Standard 500cc motorcycle
Dinner and breakfast on all days
Experienced English speaking road captain
Support vehicle for carrying luggage and other essentials
Mechanic throughout the tour
All tolls / entry fees
Tour price exclusions
Your flights / travel to Leh
Your return travel from Manali
Lunch on all days
Fuel for the ride
Snacks, beverages (bottled water, juice etc)
Refundable security deposit for the motorcycle: INR 10,000
Optional single-occupancy add-on: INR 11,000
Optional rental for helmet, knee guards and magnetic tank bag
Anything not mentioned in the Inclusions section.
2018 Availability
LM1: Jun 30 to Jul 7 -

FULLY BOOKED

LM2: Jul 28 to Aug 4 -

AVAILABLE

LM3: Aug 25 to Sept 1 -

AVAILABLE

LM4: Sept 15 to Sept 22 -

AVAILABLE
Choose one of our 2018 tour dates for the day-wise route plan
Day 1
Jun 30
Saturday
Day 1
Jul 28
Saturday
Day 1
Aug 25
Saturday
Day 1
Sep 15
Saturday
Arrive in Leh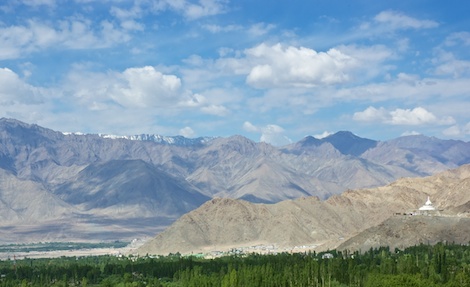 Leh is at an altitude of 11,500 feet. Due to the rarified atmosphere at that altitude, it is of utmost importance that you rest all of this day to avoid the onset of Acute Mountain Sickness (AMS). Your body needs one day's rest to get used to the thin mountain air. We use this day to give you a detailed brief of the whole ride and information on the places you will be travelling to.
Day 2
Jul 1
Sunday
Day 2
Jul 29
Sunday
Day 2
Aug 26
Sunday
Day 2
Sep 16
Sunday
Riding practice in Leh
After a day's rest, it's time for you to start the ride of your life. But before that, we take you out for a spin so you may get used to riding the Royal Enfield bike on different terrains. The ride will be on smooth tarmac and on dirt tracks to give you a feel of the Himalayan adventure in store for you. This ride will ensure that you get used to riding a Royal Enfield motorcycle and if you need any adjustments, the mechanics can do the same.
Day 3
Jul 2
Monday
Day 3
Jul 30
Monday
Day 3
Aug 27
Monday
Day 3
Sep 17
Monday
Leh ­- Khardung La - Leh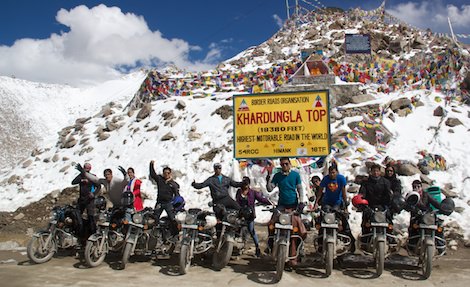 Today, you take the road to the highest motorable pass in the world,­ Khardung­ La, at 18,380 feet. In spite of the altitude, today you ride on some of the most scenic roads, overlooking a grand landscape. After celebrating at Khardung ­La, you descend back to Leh.
Day 4
Jul 3
Tuesday
Day 4
Jul 31
Tuesday
Day 4
Aug 28
Tuesday
Day 4
Sep 18
Tuesday
Leh to Pangong Tso lake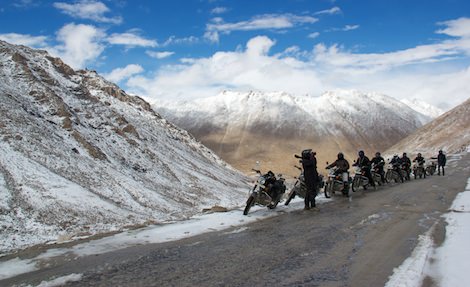 The day's ride takes you over the third-highest motorable pass in the world, Chang La, at 17,586 feet. After the descent from Chang­ La, the magical plains of Changthang open up. But the real treat is the 135 km long Pangong Tso lake. You have ample time this day to enjoy the ever changing colors of this high altitude saline lake.
Day 5
Jul 4
Wednesday
Day 5
Aug 1
Wednesday
Day 5
Aug 29
Wednesday
Day 5
Sep 19
Wednesday
Pangong Tso lake to Leh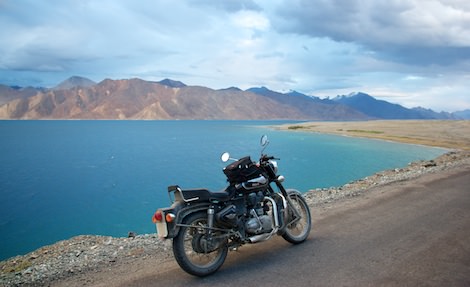 Today, we ride for a few kilometers along the Pangong lake where very few tourists visit. Post that, we retrace our ride back to Leh.
Day 6
Jul 5
Thursday
Day 6
Aug 2
Thursday
Day 6
Aug 30
Thursday
Day 6
Sep 20
Thursday
Leh to Sarchu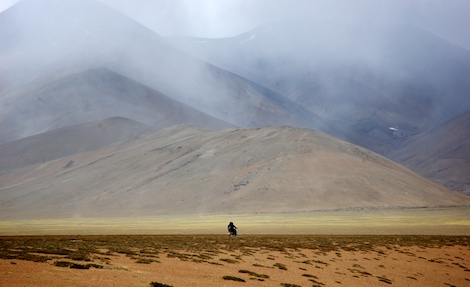 Undoubtedly the best stretch on the Manali-­Leh highway, you will feel as if you're on a roller coaster ride climbing up and down from one Himalayan pass to another. You ride up and down three high altitude passes - Taglang La (the second-highest motorable pass at 17,480 feet), Lachlung­ La (16,616 feet) and Nakee ­La (15,547 feet). To add to that is a spectacular section of 21 switchbacks called Gata loops. All this through one of the most spectacular landscapes on Earth. Since Sarchu is snowbound for most of the year, there are no permanent structures here so you stay in Swiss tents with attached toilets.
Day 7
Jul 6
Friday
Day 7
Aug 3
Friday
Day 7
Aug 31
Friday
Day 7
Sep 21
Friday
Sarchu to Keylong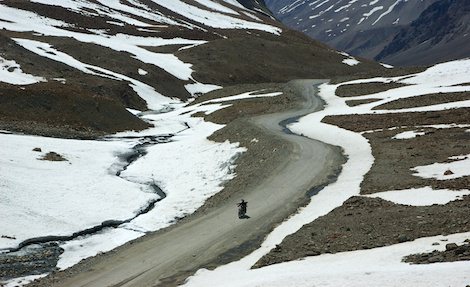 Today's ride is where you are amazed by the passing landscapes, small lakes, rivers and one high altitude pass, Baralach La at 16,500 feet. The landscape too transforms from barren desert land to sights of green plantations and small patches of forests. Keylong is the main town on the Manali­-Leh highway and here you spend the night at a hotel.
Day 8
Jul 7
Saturday
Day 8
Aug 4
Saturday
Day 8
Sep 1
Saturday
Day 8
Sep 22
Saturday
Keylong to Manali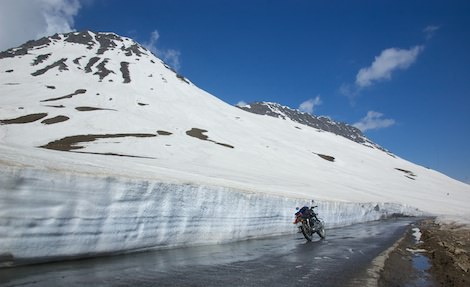 Today the landscapes change from barren to lush green Himalayan mountains and waterfalls that seemingly appear out of nowhere. Your riding skills are tested again on the climb to the 13,051 feet high Rohtang pass. The descent from the pass is one of the most beautiful rides, taking you into the picturesque hill station of Manali. Here you complete the ride of your life. We will have few rooms at our Manali hotel for you to freshen up before you take the late evening bus to Delhi.