Choose this tour if it is your dream to cover Ladakh and the Manali-­Leh highway.
This twelve day tour on the new Royal Enfield Himalayan motorcycle covers most of the scenic roads and places in the Himalayan state of Jammu and Kashmir. Apart from the Srinagar­-Leh and ­Manali-Leh highways, it covers the pristine Pangong Tso lake and also the Nubra valley. This tour covers a total of 10 high altitude passes along with the three highest motorable passes in the world. This tour is designed in a way that you get properly acclimatized to the high altitude region of Ladakh.
2017 Tour details
Duration: 12 days, Srinagar to Manali
Rider: INR 59,990
Pillion passenger: INR 49,990
Booking amount: INR 10,000
Bookings for the tour close once the required number of riders is met

Tour Price inclusions
Stay on twin­-sharing(double-occupancy) basis
Royal Enfield Himalayan 411cc motorcycle
Dinner and breakfast on all days
Experienced English speaking road captain
Support vehicle for carrying luggage and other essentials
Mechanic throughout the tour
All tolls / entry fees
Tour price exclusions
Your flights / travel to Srinagar
Your return travel from Manali
Lunch on all days
Fuel for the ride
Snacks, beverages (bottled water, juice etc)
Refundable security deposit for the motorcycle: INR 10,000
Optional single-occupancy add-on: INR 17,000
Optional rental for helmet, knee guards and magnetic tank bag
Anything not mentioned in the Inclusions section
2017 Availability
SM1 -

FULLY BOOKED

SM2 -

FULLY BOOKED
Choose one of our 2017 tour dates for the day-wise route plan
Day 1
Jun 26
Monday
Day 1
Jul 31
Monday
Arrive at Srinagar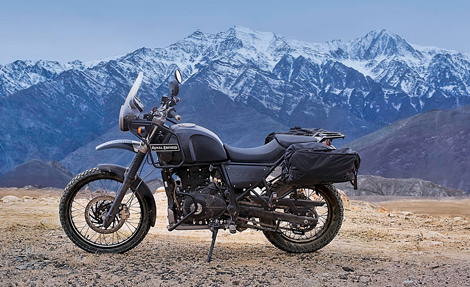 Arrive in Srinagar by 12 PM and check in to a traditional houseboat floating on the beautiful Dal Lake. After meeting the rest of the group and a pre­-ride briefing, you will be given the keys of the Himalayan motorcycle you will be riding for the rest of the tour. Post that you are free to go out for a ride or enjoy a Shikara boat ride in Dal lake.
Day 2
Jun 27
Tuesday
Day 2
Aug 1
Tuesday
Srinagar to Sonmarg, motorcycle orientation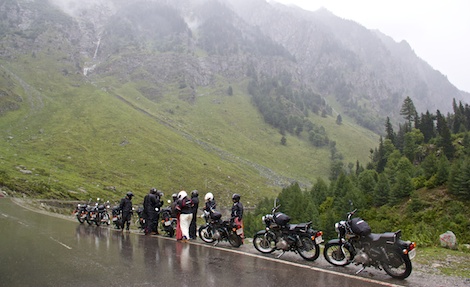 Today we start the ride which you will remember for the rest of your life. We take it easy this day and ride on various terrain which we would encounter later on in tour. This is to make sure you are comfortable with the motorcycle you are riding. We reach Sonmarg by afternoon, enjoying the alpine landscape and snow­-capped peaks around before calling it a day at a hotel.
Day 3
Jun 28
Wednesday
Day 3
Aug 2
Wednesday
Sonmarg to Kargil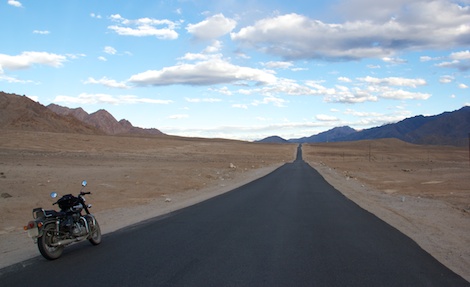 Today's the first real test of the ride. Zoji La pass at 11,575 feet overlooks the beautiful mountains of Sonmarg on one side and the high altitude Ladakh region on the other. The constant landslides at the pass mean that we ride through mud and broken roads before we can set eyes on the brown landscape awaiting ahead. The historic road from Drass to Kargil is a delight to ride on, with majestic views, green villages and raging rivers alongside.
Day 4
Jun 29
Thursday
Day 4
Aug 3
Thursday
Kargil to Leh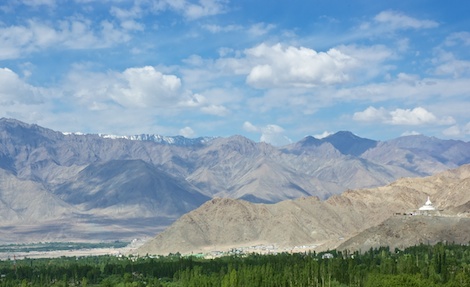 The striking rock sculpture of the Maitreya Buddha greets you at Mulbek soon after you depart from Kargil. Then you cross over two very beautiful passes, Namika La (12,139 feet) and Fotu La (13,478 feet), before reaching the unique moonscape of Lamayuru. After spending some time at Lamayuru monastery, we continue the journey ahead to Leh, the destination for the night.
Day 5
Jun 30
Friday
Day 5
Aug 4
Friday
Leh sightseeing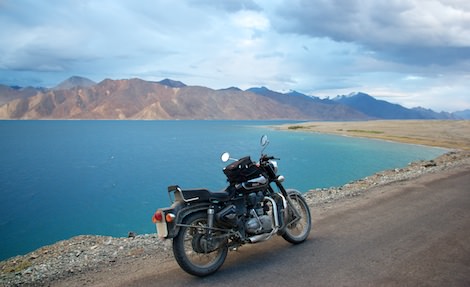 Today you take a breather from the gruelling ride you have had from Srinagar and also acclimatise to high altitude. Today, you are free to explore various parts of the Leh city, like the Namgyal Palace, Tibetan market, Shanti Stupa and various monasteries.
Day 6
Jul 1
Saturday
Day 6
Aug 5
Saturday
Leh to Pangong Tso lake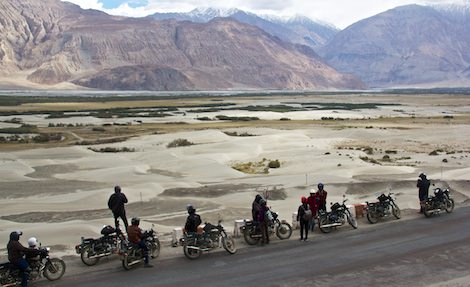 Today you ride through the third highest motorable pass in the world, the Chang La pass at 17,586 feet. After the descent from Chang La, the magical plains of Changthang open up. But the real treat is the 135 km long Pangong Tso lake. Today, you stay on the banks of the beautiful Pangong Tso.
Day 7
Jul 2
Sunday
Day 7
Aug 6
Sunday
Pangong Tso lake to Hunder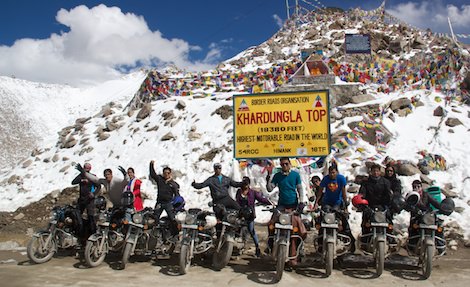 Today we ride on one of the remotest route of Ladakh made especially for the Indian Army, which connects Pangong lake to Nubra Valley bypassing Leh. This route was washed away in a cloud burst in 2010. Parts of it are still not rebuilt. With various stream crossings, riding on dry riverbeds, smooth tarmac and switchbacks, it truly is a religious experience for an adventure rider.
Day 8
Jul 3
Monday
Day 8
Aug 7
Monday
Hunder to Leh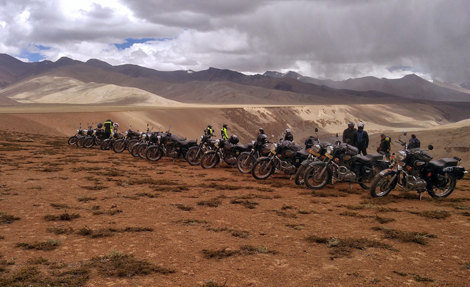 Today, you take the road to the highest motorable pass in the world - Khardung La - at 18,380 feet. In spite of the altitude, today you ride on some of the smoothest roads so far and the landscape also becomes grand. After a steep and tough ascend and celebrations at Khardung La pass, you descend back towards Leh.
Day 9
Jul 4
Tuesday
Day 9
Aug 8
Tuesday
Leh to Sarchu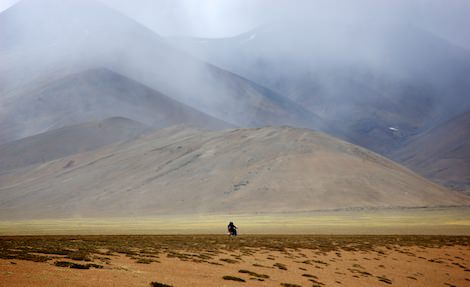 The best ride on the Manali-­Leh highway is the stretch to Sarchu. There are not just one, but three high­-altitude passes on this day, including the second­-highest motorable pass in the world, Taglang La, at 17,480 feet. Not to forget the amazing Gata loops - a series of 21 switchbacks that take you down into the valley. The night is spent in Swiss tents at a campsite, as there are no permanent structures in Sarchu.
Day 10
Jul 5
Wednesday
Day 10
Aug 9
Wednesday
Sarchu to Jispa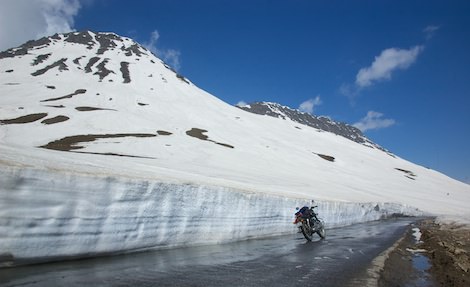 If you think that nothing can keep you surprised or excited all day long, think again. This day's ride is where you are amazed by the passing landscapes, small lakes, rivers and one high-altitude pass. The landscape too will transform from barren desert land to sights of green plantations and small patches of forests. Jispa is a small town on the Manali-­Leh highway and here you spend the night at a hotel.
Day 11
Jul 6
Thursday
Day 11
Aug 10
Thursday
Jispa to Manali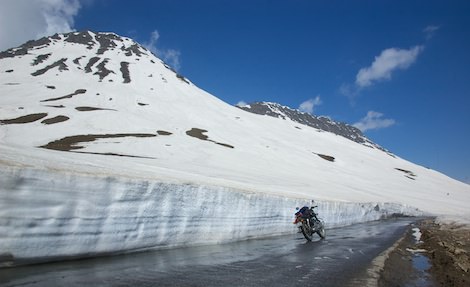 The last day of the ride is the greenest so far, along the Chandra and Bagha rivers. Finally, we cross the scenic Rohtang pass down to the sight of lush green Himalayan mountains and waterfalls that appear out of nowhere. Nature here is at its best. After the descent from the pass, you ride into Manali, a popular hill station in the Himalayas and call it a day at a hotel here, your thirst for adventure undoubtedly sated.
Day 12
Jul 7
Friday
Day 12
Aug 11
Friday
Leave from Manali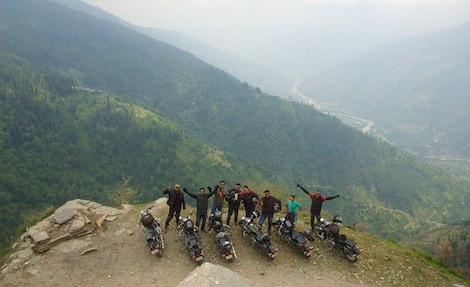 Today is the day to bid farewell to the Himalayas and your riding buddies and head home after a ride of a lifetime.