We have been designing motorcycle tours since 2001. Motorcycles and touring came into our lives slowly and later became an addiction. The next thing was to connect and share our routes, experiences with like minded people. And more importantly, to encourage more people to take up motorcycle travel. This gave birth to 60kph – Motorcycle Travel Club, India, one of the first non-profit motorcycle travel clubs within India, in 2002.
To further promote motorcycle touring, we made two award winning documentary films with Dirt Track Productions about our motorcycle journeys to remote parts of India. The films were shown at film festivals worldwide and bought by the Discovery Channel.
Ride of My Life is but an extension of our passion for motorcycle touring. The tours we design here are based on our years of riding experience in remote regions. The routes, places to stay, and of course, the experiences, are all crafted to give a rider an experience of a lifetime.
If you want to book a tour with us, welcome onboard. But even if you just need some information for your self-guided motorcycle ride, we will be more than happy to help!
About the Founders
Gaurav Jani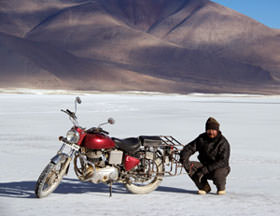 Gaurav was a national award winning filmmaker who gave up making commercial films to follow his passion for making documentaries on motorcycle travel. Between 2004 and 2010 he travelled solo across India and made documentary films about remote places and indigenous people. Two of his films,
Riding Solo to the Top of the World
and
One Crazy Ride
have won awards at film festivals worldwide. His third film,
Motorcycle Chang pa
, about a one year journey to the Changthang plateau in
Ladakh
, is as yet unfinished. Gaurav was the founder member of
60kph, Motorcycle Travel Club, India
. He was also an advisor at
The Ted Simon Foundation
UK (which encourages and assists travellers to make an extra effort to mold their observations and insights into something of value for the rest of the world) and an instructor at
Overland Expo
USA (the world's largest event for do-it-yourself adventure enthusiasts). Through his films, travels, and this company, Gaurav has inspired many across India and the world to take up motorcycle travel. This Motorcycle Changpa, as he was anointed by his dear Changpa nomad friend Tsewang, was a true legend who will live in our hearts forever.
Vinod Panicker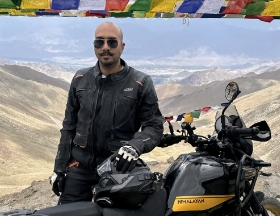 Vinod's interests lie in motorcycle travel, photography and technology. An avid photographer, Vinod has done several motorcycle rides to different parts of India and abroad, especially in the Himalayas. Vinod has an uncanny knack of planning a ride to the bone without killing the romance and footloose nature of travel itself. His zest for perfection and meticulous planning is the backbone for designing the ride flow of all our tours. Vinod is also a member of
60kph, Motorcycle Travel Club, India
and was an integral part of the award winning motorcycle documentary
One Crazy Ride
.
Sanjay Sharma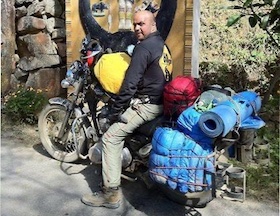 Sanjay Sharma is an avid motorcyclist with excellent operational skills, honed through decades of experience in managing large-scale events for customers from around the world. He's also a sportsman and a cyclist with a great love for the outdoors, and can cook a delicious meal in the middle of nowhere with the bare minimum. Sanjay too is a long-time member of
60kph, Motorcycle Travel Club, India
, and brings a passion for motorcycle travel and hospitality to Ride of My Life.