Manali · Sach pass · Sural · Bairagarh · Dalhousie · Dharamsala
Pangi Valley, a part of Chamba District of the Himalayas, is a remote & rugged tribal region, situated on the Northwest of the Himachal Pradesh state. The road is dubbed as the 'World's Most Dangerous Road', as at times you will be riding on the edge of a narrow and unpaved road with a straight drop of thousands of feet in the Valley below. The ride also covers the challenging and mythical Sach Pass.
If you are an adventure motorcyclist and looking for a dose of the ultimate adrenaline rush, this ride will be a religious experience for you. The region is very remote so on couple of days we would have to stay in basic hotels or guest houses.
Along with the adventure, the landscape too leaves one speechless and the overall experience guarantees that you return home saying it was the "Ride of My Life".
2021 TOUR DETAILS
Duration: 10 days, Manali to Manali
Rider: INR 69,990
Pillion passenger: INR 59,990
Booking amount: INR 10,000
Bookings for the tour close once the required number of riders is met

Tour Price inclusions
Stay on twin-­sharing (double-occupancy) basis in hotels
Royal Enfield Himalayan dual-sport 411cc motorcycle
Dinner and breakfast on all days
Experienced English speaking road captain
Support vehicle for carrying luggage and other essentials
Mechanic throughout the tour
All tolls / entry fees
Tour price exclusions
Applicable Government GST Tax
Your two- way travel to and from Manali
Lunch on all days
Fuel for the ride
Snacks, beverages (bottled water, juice etc)
Refundable security deposit for the motorcycle: INR 10,000
Optional single-occupancy add-on: INR 17,000
Optional rental for helmet, knee guards and magnetic tank bag
Anything not mentioned in the Inclusions section.
2021 Availability
PANGI1: Sep 6 to Sep 15 -

AVAILABLE
DAY-WISE ROUTE PLAN
Day 1
Sep 6
Monday
Arrive in Manali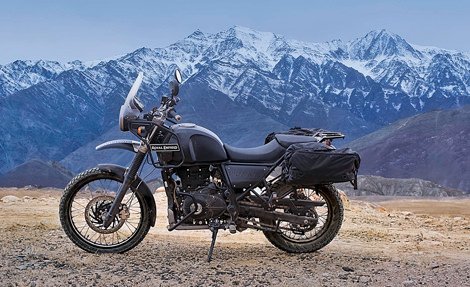 You need to arrive either by Volvo Bus, or by flight till Bhuntar airport in Kullu from New Delhi at our designated hotel in Manali by 12 noon, where you will meet the Ride of My Life team and your co-riders. The road captain briefs everyone on the route and the day-wise plan. Post that, you will be handed over the Himalayan motorcycles which you would be riding for the rest of the tour.
Day 2
Sep 7
Tuesday
Motorcycle orientation and off road practice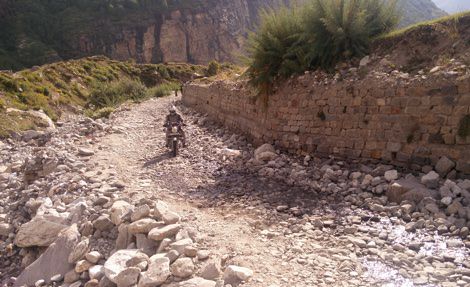 On this day, we want you to get the hang of riding a Royal Enfield on the varied terrain of the Himalayas that you will be encountering later in the tour. Any adjustments to the motorcycle according to your preference and riding posture will be done by the mechanic.
Day 3
Sep 8
Wednesday
Manali to Keylong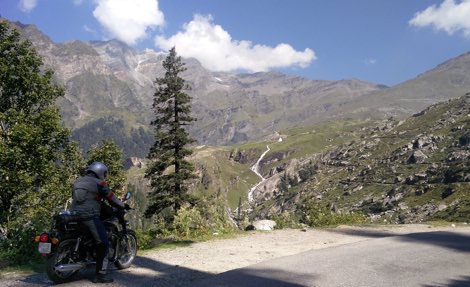 You wake up early in the morning to ride on the world's highest road - the Manali-Leh highway. As soon as you leave Manali, the climb for the 13,051 feet high Rohtang Pass starts. After Rohtang, the road descends into the Chandra valley and also becomes rough and muddy giving you the sense of adventure that lies ahead. Your stay will be at a hotel in Keylong.
Day 4
Sep 9
Thursday
Keylong to Killar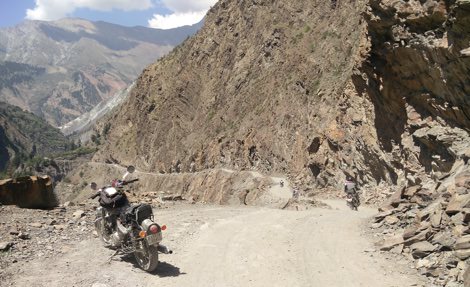 The real treat starts this day - narrow roads, water crossings and remote villages await us, as we leave early and divert from the Manali-Leh highway towards Udaipur. Post Udaipur, the road becomes blissfully dusty and rough. We ride on a road hundreds of meters high and along the narrow gorges of the Chenab valley amidst pristine landscape and view of numerous waterfalls. We take a detour towards a basic hotel in Killar Village, which will be our base for two nights.
Day 5
Sep 10
Friday
Killar - Kistawar road - Killar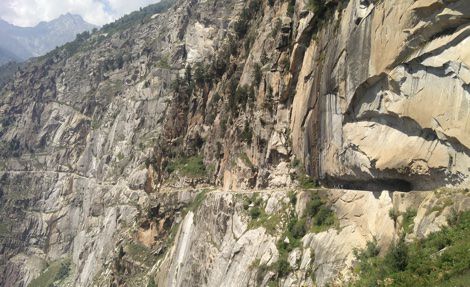 Today is the day to wake up with a grin on the face as we would be riding through some of the most challenging 'roads' you would have ever ridden on, leading to the 'World's most dangerous road'. This experience is not for the faint hearted, as one glance down the valley is bound to give you goosebumps. After taking in the beauty and clicking sufficient pictures, we head back towards our hotel in Killar for yet another challenging day tomorrow.
Day 6
Sep 11
Saturday
Killar to Bairagarh via Sach Pass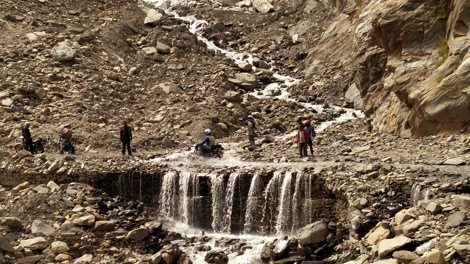 On this day, we cross over to the other side of the river Chenab/ Chandrabhaga, towards Chamba, via Sach Pass. The initial ride is through raw yet beautiful forest roads which eventually lead to extremely steep and twisty roads towards Sach Pass (14,500 feet). The descent from the pass offers you majestic views of Chamba Valley. Our stay today is in a hotel in small village with basic amenities.
Day 7
Sep 12
Sunday
Bairagarh to Dalhousie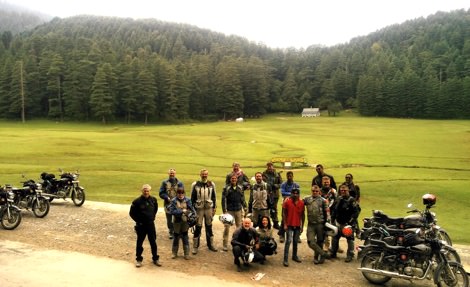 From this day, the roads get better as we ride towards the busy Chamba town. After taking a diversion towards Dalhousie, you halt for the day at a nice hotel. After the adventure, you are free to indulge in shopping, sightseeing, or just rest.
Day 8
Sep 13
Monday
Dalhousie to Dharamshala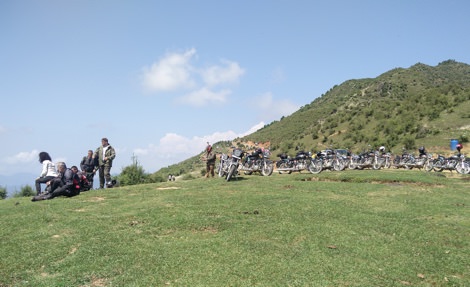 After a short, but eventful ride through Jot Pass (7500 feet), we reach Dharamshala, where the Tibetan government-in-exile is headquartered, and is home to the Dalai Lama. Once you check into the hotel, you can choose to visit the Dalai Lama temple or local market place for souvenirs.
Day 9
Sep 14
Tuesday
Dharamshala to Manali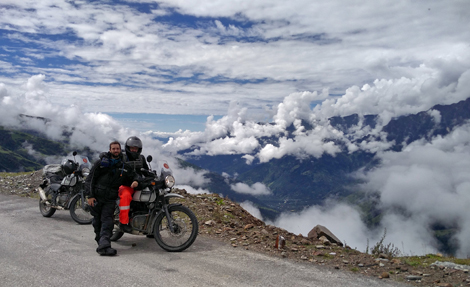 After riding for days in middle of nowhere and on rough roads, today for a change we will be on the smooth national highway along the Beas river and back to our hotel in Manali.
Day 10
Sep 15
Wednesday
Depart from Manali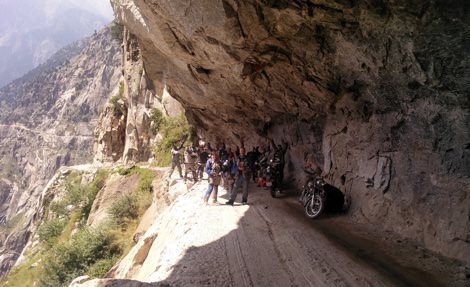 It's bye bye time after an adventure of a lifetime and endless stories to share! Your hotel is paid for till 12 noon on this day. You can choose to take a luxury bus to Delhi/ Chandigarh or a flight from Bhuntar Airport in Kullu for your journey back home.