Jaipur · Nahargarh fort · Amber fort · Bikaner · Tal Chapar Black Buck Sanctuary · Khudi · Jaisalmer · Kuldhara village · Golden fort · Jodhpur · Pokhran dry salt lake · Mehrangarh Fort · Bera · Udaipur · Ranakpur temple · Kumbhalgarh fort · Pichola lake · Bundi · Pali ghat · Ranthambore
Rajasthan literally means "Land of Kings". Perhaps no other place in India has a history as rich and colorful as Rajasthan. At the time of India's independence, there were 22 princely states that made up the present-day Rajasthan, with the Rajputs ruling them. They have left behind a legacy of massive forts, splendid palaces, historical temples and a land steeped in culture.
This motorcycle ride allows you to experience the true essence of Rajasthan in 12 days. What with visiting historical forts & palaces, staying on the sand dunes in the desert, experiencing tiger & leopard safaris, riding on dry lake beds and even a river crossing with your motorcycle on a boat through a crocodile sanctuary! The quirky temples that we pay a visit to during the ride are unlike any in the world too. This Rajasthan ride is a judicious mix of history, myth, wildlife safaris and of course riding through arid landscapes while avoiding the busy highways as much as possible.
2022 TOUR DETAILS
Duration: 12 days, Jaipur to Jaipur
Rider: INR 69,990
Pillion passenger: INR 59,990
Booking amount: INR 10,000
Bookings for the tour close once the required number of riders is met

Tour Price inclusions
Stay on twin-­sharing(double-occupancy) basis
Royal Enfield 500cc motorcycle
Dinner and breakfast on all days
Experienced English speaking road captain
Support vehicle for carrying luggage and other essentials
Mechanic throughout the tour
Leopard safari at Bera
Crocodile safari at Pali ghat
All tolls / entry fees
Tour price exclusions
Your two-way travel to Jaipur
Applicable Government GST Tax
Lunch on all days
Fuel for the ride
Entry fees at all forts and heritage buildings
Tiger safari at Ranthambore
Any individual sightseeing expense in Udaipur on the rest day
Snacks, beverages (bottled water, juice etc)
Refundable security deposit for the motorcycle: INR 10,000
Optional single-occupancy add-on: INR 27,000
Optional rental for helmet, knee guards and magnetic tank bag
Anything not mentioned in the Inclusions section.
2022 AVAILABILITY
Day-wise route plan (only indicative for 2022)
Day 1
Jan 10
Monday
Arrive in Jaipur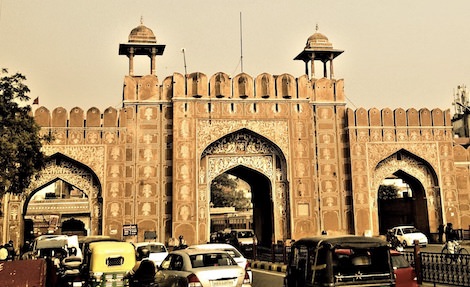 You will need to arrive at our designated hotel in Jaipur by noon. If you're coming from outside India, fly to New Delhi and then choose to either fly in to Jaipur on a short 30 minute flight or catch the early morning Shatabdi Express train at 6 AM for a 5 hour journey to reach Jaipur. Do plan to fly in to New Delhi accordingly, in that case.
At the hotel, you'll meet the Ride of My Life team and your co-riders. After lunch, the road captain gives a briefing about the ride and then we head out for a short spin on our motorcycles. If you need any adjustments, our mechanics will take care of it. After the ride, you are free to visit the Nahargarh fort and the Amber fort for the Sound & Light show in the evening.
Day 2
Jan 11
Tuesday
Jaipur to Bikaner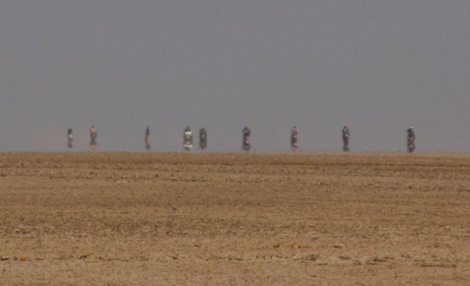 Today we kickstart the Rajasthan ride. And true to the Ride of My Life philosophy, we skip the mundane National Highway NH-11 and instead take the interior roads that cut across the dry Sambhar Salt Lake. But before arriving at the campsite on the outskirts of Bikaner, we ride through the Tal Chapar Blackbuck Sanctuary as well. At the campsite, we stay in swiss tents that have attached restrooms.
Day 3
Jan 12
Wednesday
Bikaner to Khudi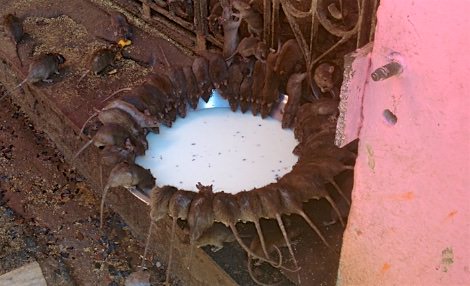 Our first stop today is the famous Karni Mata temple, otherwise known as the Temple of Rats. The 20,000 odd holy rodents living in the temple are revered by their followers that visit from far and wide. These rats are considered auspicious and not pests.
Note that this place is free of Plague and other contagious diseases.
After a brief stop at the temple, we again take the scenic country roads and join the National Highway for a smooth ride to Khudi, on the outskirts of Jaisalmer town. Away from the hustle and bustle of the town, we stay in traditional mud cottages with a view of the sand dunes that Rajasthan is famous for.
Day 4
Jan 13
Thursday
Khudi - Jaisalmer - Khudi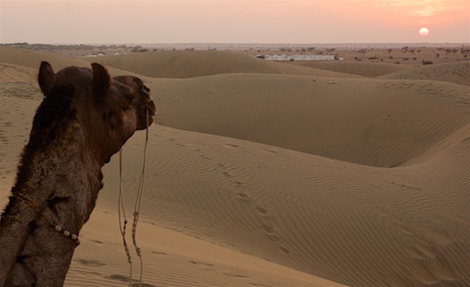 After breakfast at a local village house, we go for a ride around the sand dunes, followed by a ride to the ancient Kuldhara village. A ghost village now, Kuldhara was reportedly abandoned overnight by its residents some time in the 1800s. We also visit the Golden fort for which Jaisalmer is famous for. After lunch we ride back to Khudi and you may go for a Jeep or camel safari in the sand dunes. In the evening we watch a folk dance around a bonfire in the sand dunes.
Day 5
Jan 14
Friday
Khudi to Jodhpur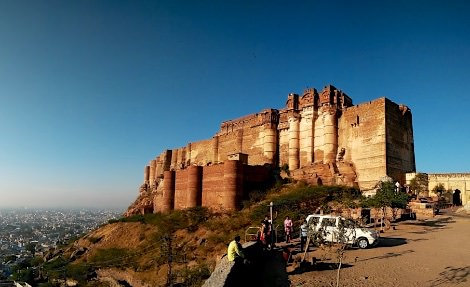 After a stint on the National Highway, we take a detour via the Pokhran dry salt lake. 50 kilometers of riding on back roads surrounded by arid flat land that echoes the true essence of Rajasthan. After reaching the hotel in Jodhpur, you are free to visit the famous Mehrangarh Fort.
Day 6
Jan 15
Saturday
Jodhpur to Bera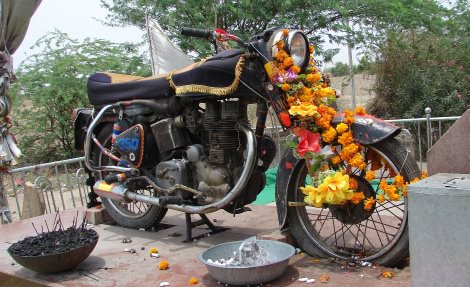 Today we have a comparatively short ride, as we have something very special in store for you in the evening. In the morning, we visit the now becoming famous Bullet Baba Temple, where a Royal Enfield motorcycle is the revered idol. We then head to Castle Bera, a heritage hotel, where leopards rule the surrounding area. The special experience is the evening jeep safari in which there are high chances of sighting a leopard.
Day 7
Jan 16
Sunday
Bera to Udaipur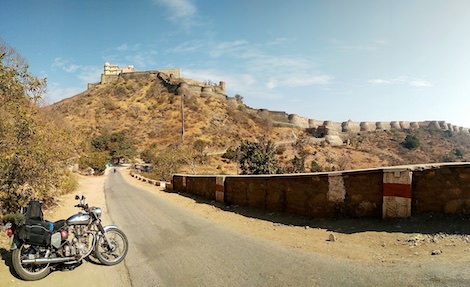 Today's ride is special for various reasons. There's the roads - curves and switchbacks on the oldest mountain range in India - the Aravalli hills - that we ride today instead of the usual dead straight ones we've been on so far. Then there are the two famous monuments of not just Rajasthan but of all India. Ranakpur temple, famous for its architecture and intricate carvings and Kumbhalgarh fort, that has a wall that's second only to the Great Wall of China. The best is for the last - the beautiful city of Udaipur, the Venice of the East. After checking in, we drive to Pichola lake to enjoy the mesmerising sight of the whole city with all its beautiful heritage properties and illuminated palaces. This for sure is a sight to behold.
Day 8
Jan 17
Monday
Udaipur Rest Day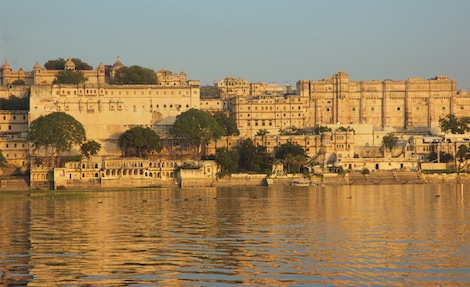 After a week of riding in Rajasthan, a rest day at Udaipur, considered one of the best cities in the world for travel, is a must. Depending upon your interest, you can choose to visit the various sightseeing places in Udaipur, but don't miss visiting the biggest palace in Rajasthan that was built over a period of 400 years.
Day 9
Jan 18
Tuesday
Udaipur to Bundi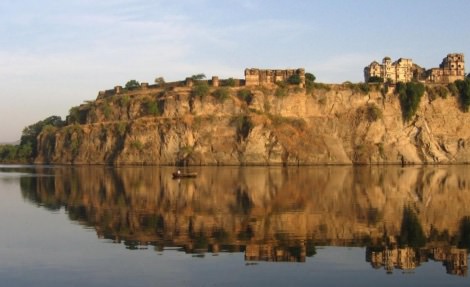 Today's ride takes us to the plains along the Chambal River. Riding alongside the Chambal, we will encounter some breathtaking vistas, including a fortress built on the banks of the river. Later, we take a dirt track that leads us through the jungle to the city of Bundi.
Day 10
Jan 19
Wednesday
Bundi to Pali ghat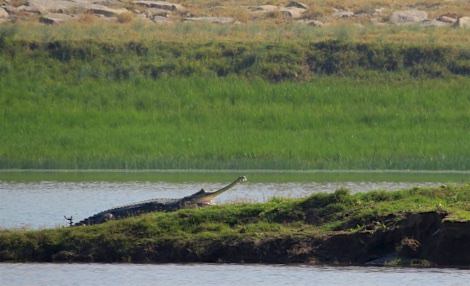 A short ride day again, we reach Pali ghat situated at the confluence of the Chambal and Parvati rivers, and pitch our tents overlooking the river. After freshening up, we head out for a boat safari to spot crocodiles and alligators. Sighting them will be very easy with our expert guides. In the evening, we party around a bonfire with our feet in the cool sands of the river bed. Tonight, we camp in the wilderness under the stars.
Day 11
Jan 20
Thursday
Pali ghat to Ranthambore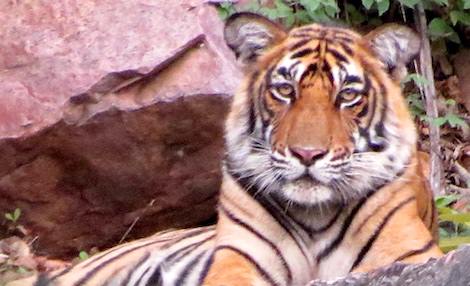 The best is, yet again, for last. Instead of taking the national highway, we ride on dirt tracks along the Chambal river. We then haul our bikes on to a boat and cross the mighty Chambal river. A unique experience that is rarely possible in the desert state of Rajasthan. Taking interior roads again, we reach the famous Ranthambore Tiger Sanctuary in time for the jeep safari to meet the tiger in its natural habitat.
Day 12
Jan 21
Friday
Ranthambore to Jaipur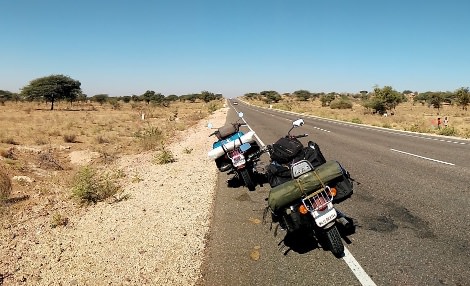 Today, we leave early for a 4-hour ride on the National Highway to reach Jaipur. We will be in Jaipur by 1 PM. A few rooms at the hotel will be available for us to freshen up before our respective flight/train connections. The stay at Jaipur and meals on this day are not covered in the tour cost. if you need a room for yourself, please inform us in advance.