Specially designed for foreign nationals looking for a motorcycling holiday in the Himalayas
Your two week motorcycle adventure on the new Royal Enfield Himalayan motorcycle in the Himalayas of Ladakh is designed in such a way that you spend all of your riding time in the Himalayan mountains and none on heavily trafficked highways. All night halts will be at well-appointed hotels or campsites with attached toilets. This is one of the semi­luxury tours we offer. It is only on these tours that we take unique routes that are not covered in our other tours or by most motorcycle tour companies.
2019 Tour details
Duration: 13 days, Delhi to Delhi
Rider: INR 1,89,000
Pillion: INR 1,79,000
Booking amount: INR 50,000
Bookings for the tour close once the required number of riders is met

Tour Price inclusions
Air-­conditioned Bus transfer between Delhi & Manali
Stay on twin-­sharing basis in hotels / swiss tents / home­stays
Royal Enfield Himalayan 411cc motorcycle
Fuel, oil & routine maintenance
All meals (breakfast, lunch, dinner, snacks) & beverages (bottled water, juices, tea, coffee) on all days
Experienced English speaking road captain
Support vehicle for carrying luggage and other essentials
Mechanic throughout the tour
Transportation to and from local sight-seeing to select locations
All tolls / entry fees
Airport transfer in Leh
Tour price exclusions
Applicable Government GST Tax
Your travel / flight to Leh
Your food and accommodation in Delhi
Airport transfers in Delhi
Alcoholic beverages
Travel insurance
Optional single occupancy add-on INR 50,000
Anything not mentioned in the Inclusions section.
2019 Availability
DM: Jul 22 to Aug 3 -

FULLY BOOKED
Day-wise route plan
Day 1
Jul 22
Monday
Arrival in Delhi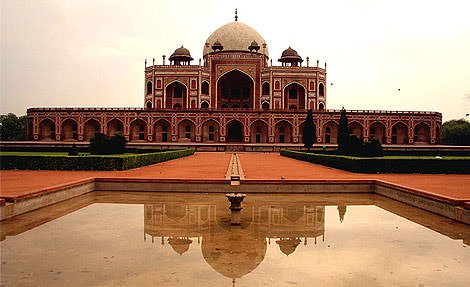 Arrive in Delhi by 8 PM India Standard Time. If you wish, we can recommend you hotels in Delhi according to your budget.
Day 2
Jul 23
Tuesday
Flight to Leh, acclimatize to high altitude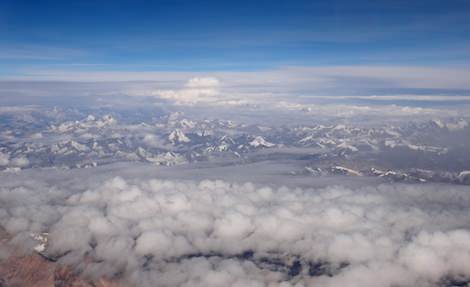 You take the early morning flight from Delhi to Leh. The 70 minute flight takes you from sea level to the ancient Himalayan city of Leh at an altitude of 11,500 feet. Due to the rarified atmosphere at that altitude, it is of utmost importance that you rest all of this day to avoid the onset of Acute Mountain Sickness (AMS). Your body needs one day's rest to get used to the thin mountain air. We use this day to give you a detailed brief of the whole ride and also provide you with maps and information on the places you will be travelling to.
Day 3
Jul 24
Wednesday
Getting used to the motorcycle in Leh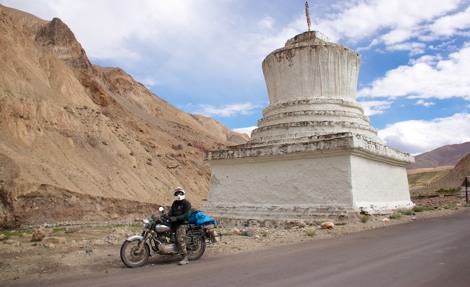 After a day's rest, it's time for you to start the Ride of Your Life. But before that, we take you out for a spin so you can get used to riding the motorcycle in India. Here, we ride on the left side of the road. The ride will be on smooth tarmac and on dirt tracks to give you a feel of the Himalayan adventure in store for you. This ride will ensure that you get used to riding a Royal Enfield motorcycle and if you need any adjustments, the mechanics can do the same.
Day 4
Jul 25
Thursday
Leh to Pangong Tso lake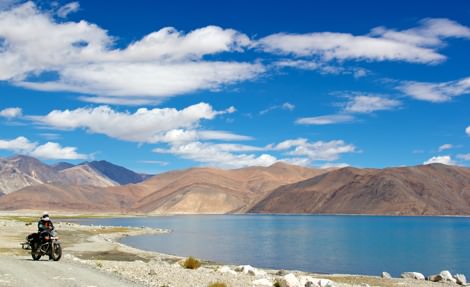 Arguably the most breathtaking region of Ladakh, the 18,500 square mile (30,000 sq km) Changthang Plateau is where you ride to on this day. Changthang is a unique landscape compared to to other parts of Ladakh. Its great plains have some of the most majestic grasslands and meadows in the world. But to reach Changthang, you have a long and steep ride through the third highest motorable pass in the world, the Chang La pass at 17,586 feet. After the descent from Chang La, the magical plains of Changthang open up and you will see nomads with their flocks of yak, sheep and goat on the various grasslands.
But the real treat is the 84 mile (135 km) long Pangong Tso lake. A lot of migratory birds come here during this time of the year. Today, you stay with a Ladakhi family as their house guests. Home-stay is a concept developed by the Ladakh authorities wherein locals are empowered through tourism. The home-stay will be on the banks of the Pangong Tso lake and you are treated to traditional Ladakhi and Tibetan cuisine.
Day 5
Jul 26
Friday
Pangong Tso lake to Hunder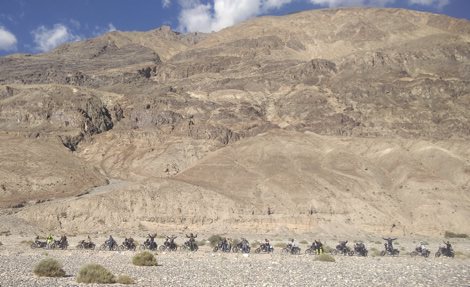 Today we ride on one of the remotest route of Ladakh made especially for the Indian Army, which connects Pangong lake to Nubra Valley bypassing Leh. This route was washed away in a cloudburst in 2010. Parts of it are still not rebuilt. With various stream crossings, riding on dry riverbeds, smooth tarmac and switchbacks, it truly is a religious experience for an adventure rider.
Day 6
Jul 27
Saturday
Hunder to Sumoor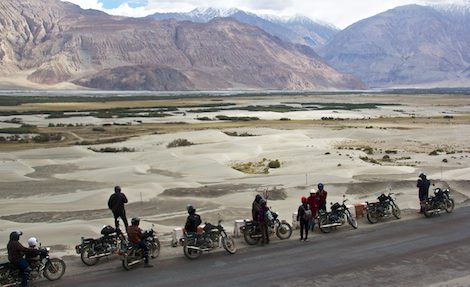 Today we take a short ride of 35km to another beautiful village in Nubra Valley, called Sumoor. After checking in to the hotel, we visit the famous sand dunes, as well as the hot springs in Panamik. This will be a unique experience and will rejuvenate you for the rest of the tour.
Day 7
Jul 28
Sunday
Sumoor to Leh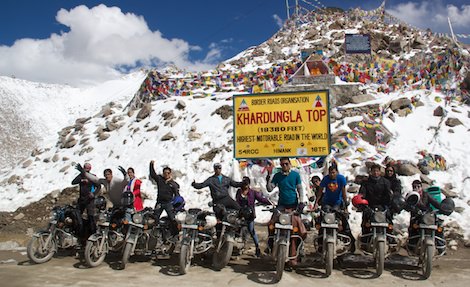 Today, you take the road to the highest motorable pass in the world - Khardung La - at 18,380 feet. In spite of the altitude, today you ride on some of the smoothest roads so far and the landscape also becomes grand. After a steep and tough ascend and celebrations at Khardung La pass, you descend back towards Leh.
Day 8
Jul 29
Monday
Leh rest day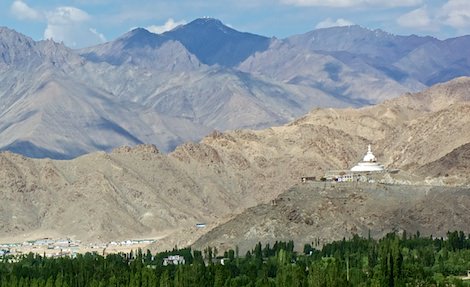 Today you take a breather from the grueling ride you have had. After a half day's rest you explore various parts of Leh, such as the Namgyal Palace, Tibetan market and the Shanti Stupa.
Day 9
Jul 30
Tuesday
Leh to Tso Kar Lake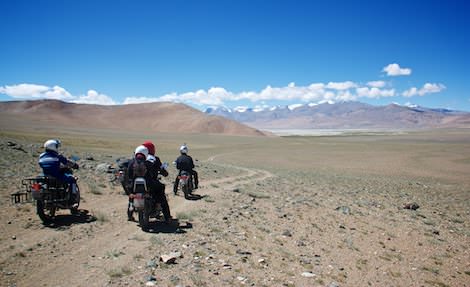 You leave from Leh early in the morning for the much awaited part of the ride. You ride up and down the second highest motorable pass Taglang La (at 17,582 feet).This leads you straight to More Plains from where you take an offroad towards Tsokar.

The Tso Kar basin has miles of meadows and marshy land. It has both a fresh water and a brackish lake along with several natural springs and streams. Tso Kar lake is also used by a lot of migratory birds as their breeding ground. Apart from its sheer beauty, Tso Kar basin is also a very important region for the Indian and Tibetan nomads who live here in the winter months. Your camp resort for the day is close to one such nomadic campsite of Pongunagu.
Day 10
Jul 31
Wednesday
Tso Kar Lake to Sarchu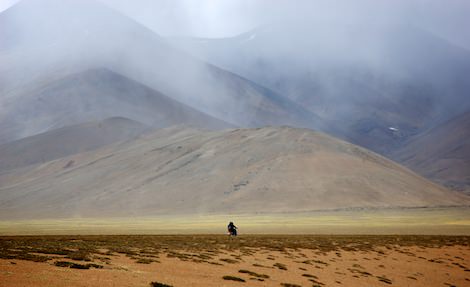 Undoubtedly the best stretch on the Manali-Leh highway, this section of the Manali-Leh highway will feel as if you're on a roller coaster ride climbing up and down from one Himalayan pass to another. From the Tso Kar basin, you touch the Manali-Leh highway after a 30km stretch long table land, called More plains. Soon after that, you ride up and down two high altitude passes, Lachlung La (16,616 feet) and Nakee La (15,547 feet) and a section of 21 switchbacks called Gata loops. All this through one of the most spectacular landscapes on Earth. Before reaching Sarchu, you leave the state of Jammu and Kashmir and enter the state of Himachal Pradesh. Since Sarchu is snowbound for most of the year, there are no permanent structures here so you stay in Swiss Tents with attached toilets.
Day 11
Aug 1
Thursday
Sarchu to Tandi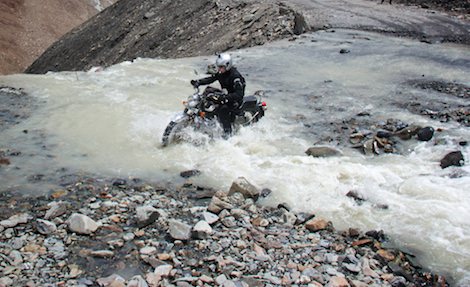 If you think that nothing can keep you surprised or excited all day long, think again. This day's ride is where you are amazed by the passing landscapes, small lakes, rivers and one high altitude pass. The landscape too will transform from barren desert land to sights of green plantations and small patches of forests. Tandi is a very small town on the Manali-Leh highway and here you spend the night in bamboo cottages overlooking the confluence of the Chandra and Bagha rivers.
Day 12
Aug 2
Friday
Tandi to Manali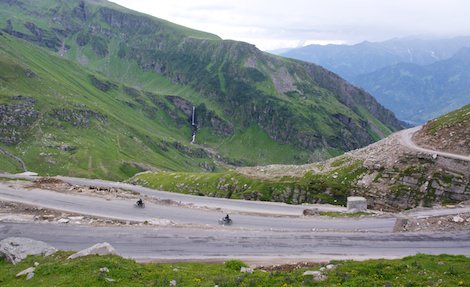 The Manali-Leh highway is considered the most beautiful yet demanding highway in the world. Your ride today is the toughest since you started. The mud covered climb and descent of the 13,051 feet high Rohtang pass will test your riding skills to the max. That's the tough part, but what about the landscape? Lush green Himalayan mountains and waterfalls appear out of nowhere once you cross the Rohtang pass. Nature here is at its best. After the descent from the pass, you ride into Manali, a popular hill station in the Himalayas and call it a day at a hotel here, your thirst for adventure undoubtedly satiated.
Day 13
Aug 3
Saturday
Manali to Delhi bus ride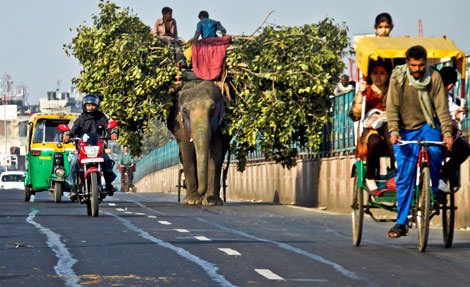 Instead of waking up early, today you can sleep late as after lunch, you have a 390 odd mile (625 km) bus ride to Delhi in an air­conditioned bus. The bus journey to Delhi will take around 15 hours.