This 7 day Bhutan tour on the Himalayan, the new dual sports motorcycle from Royal Enfield is designed for riders who cannot take more than a week away from work. Even though the duration is shorter than our main Bhutan tour. This tour visits some of the best regions of The land of the Thunder Dragon.
The tour covers the historic and culturally rich cities of Paro and Thimphu. It also covers the Chele la (13,084 feet) the highest motorable pass in Bhutan and a trek to the famous "Tiger's Nest" monastery. The tour is short and action-packed, which is guaranteed to give you memories of a lifetime.
Bhutan due to its strict tourism policy and the limited number of hotels has to be planned well in advance. Please let us know as soon as you are sure, as for this tour, we will not be able to take bookings at the last moment.
2019 Tour Details
Duration: 7 days, Siliguri to Siliguri
Rider: INR 42,990
Pillion passenger: INR 37,990
Booking amount: INR 10,000
Bookings for the tour close once the required number of riders is met

2019 Tour Status
B1: Apr 14 to Apr 20, 2019 -

COMPLETED

B2: May 12 to May 18, 2019 -

COMPLETED

B3: Sep 29 to Oct 5,2019 -

FULLY BOOKED

B4: Nov 3 to Nov 9,2019 -

AVAILABLE
Documentation requirements
For Indian Nationals:
You will need to have the following documents for the immigration formalities at the Bhutan border.
Valid Indian Passport (original + 5 photocopies)
Valid Indian motorcycle driving license (original + 5 photocopies)
5 passport-size photographs
For Foreign Nationals:
Valid Passport (original + 5 photocopies)
Valid motorcycle driving license (original + 5 photocopies)
Multiple entry Indian visa (you will be re-entering India towards the end of the tour)
5 passport-size photographs
Tour Price inclusions
Stay on twin-­sharing(double-occupancy) basis
Royal Enfield Himalayan Dual-Sport 411 cc motorcycle
Dinner and breakfast on all days
All Bhutan permit and Motorcycle fees
Experienced English speaking road captain
Support vehicle for carrying luggage and other essentials
Mechanic throughout the tour
All tolls / entry fees
Tour price exclusions
Official USD 1,250 permit fees of Bhutan (for foreign nationals only)
Applicable Government GST Tax
Your two-way travel to and from Siliguri
Lunch on all days
Fuel for the ride
Snacks, beverages (bottled water, juice etc)
Any spares you consume during the ride
Refundable security deposit for the motorcycle: INR 10,000
Optional single-occupancy add-on: INR 19,000
Optional rental for helmet, knee guards and magnetic tank bag
Anything not mentioned in the Inclusions section
Day wise route plan
Day 1
Apr 14
Sunday
Day 1
May 12
Sunday
Day 1
Sep 29
Sunday
Day 1
Nov 3
Sunday
Arrival in Siliguri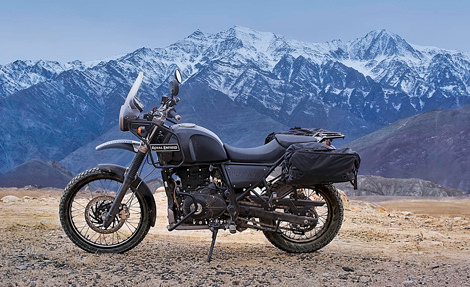 Bagdogra airport in Siliguri is well connected with all major cities in India. After your arrival at our designated hotel in Siliguri, we head out for a short ride so that you test the Himalayan motorcycle you would be riding for the rest of the tour. While the mechanic makes final adjustments according to your riding style, the road captain briefs you about the entire ride, entry formalities for Bhutan and sort out the paperwork well in advance to shorten the period of wait for permits and at immigration check posts.
Day 2
Apr 15
Monday
Day 2
May 13
Monday
Day 2
Sep 30
Monday
Day 2
Nov 4
Monday
Siliguri to Phuntsholing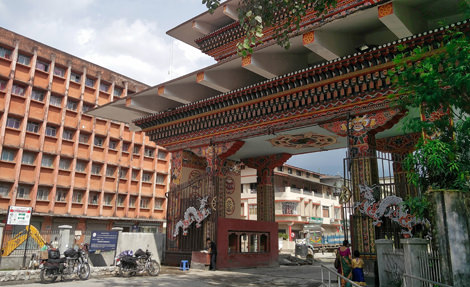 Today we kick-start the Bhutan tour on a smooth National Highway that passes through paddy fields and tea plantations. After 150 kms, it is Kuzuzampola Bhutan! While but a gate separates Bhutan from India, your senses will register the difference between the two countries instantly. We first halt at the immigration office to get permits sanctioned for the tour. Post the permit formalities, you are free to explore the town of Phuntsholing, its bustling markets and the local cuisine.
Day 3
Apr 16
Tuesday
Day 3
May 14
Tuesday
Day 3
Oct 1
Tuesday
Day 3
Nov 5
Tuesday
Phuntsholing to Paro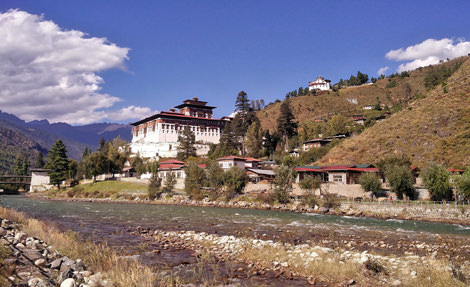 As soon as we leave Phuntsholing, the serene mountains of Bhutan greet us. The ride will take us through mesmerising landscapes, forested mountains and lush valleys. The architecture of buildings in Bhutan is striking and will immediately capture your attention. As we close in towards Paro, the roads become broader and straighter. The view of prayer flags and three pagodas at Chuzom where the Paro river meets the Thimphu river marks our entry into Paro valley. Our night stay is at a hotel in the ancient city of Paro.
Day 4
Apr 17
Wednesday
Day 4
May 15
Wednesday
Day 4
Oct 2
Wednesday
Day 4
Nov 6
Wednesday
PARO - TREK TO TIGER'S NEST/ RIDE TO CHELE LA PASS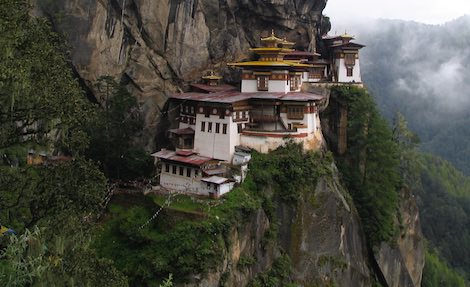 Today you have the option to ride to Chele la (3988 m/ 13084 ft), the highest pass in Bhutan or trek to the famous Taktsang Palphug Monastery, also known as Tiger's nest monastery. The monastery stands on the edge of a cliff and offers a beautiful view of Paro valley. A word of caution - The trek is over steep slopes and dusty paths paved in the forest concluding with 700 steps. You can choose to walk or hire a pony (only till half-way). The trek will take approximately 5-6 hours in total.

Irrespective of your choice, in the evening we visit the traditional market of Paro to see the exquisite Bhutanese and Buddhist art and also to the banks of Paro river from where one can get a spectacular view of the beautifully lit Paro Dzong.
Day 5
Apr 18
Thursday
Day 5
May 16
Thursday
Day 5
Oct 3
Thursday
Day 5
Nov 7
Thursday
Paro to Thimphu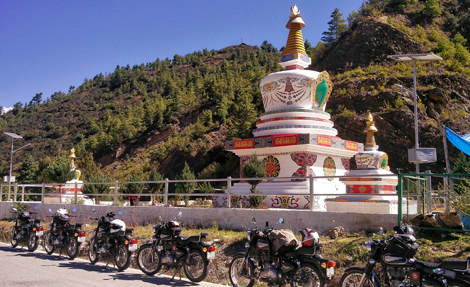 We leave early in the morning for a short ride to Thimphu via Chuzom where you will see the confluence of the Paro and Thimphu rivers. Thimphu being the capital of Bhutan offers a taste of city life in this nature-loving country. Once there, we head out to see the best city has to offer - ancient monasteries, royal palace and end the day at the majestic statue of Buddha giving a breathtaking view of Thimphu city.
Day 6
Apr 19
Friday
Day 6
May 17
Friday
Day 6
Oct 4
Friday
Day 6
Nov 8
Friday
THIMPHU TO PHUNTSHOLING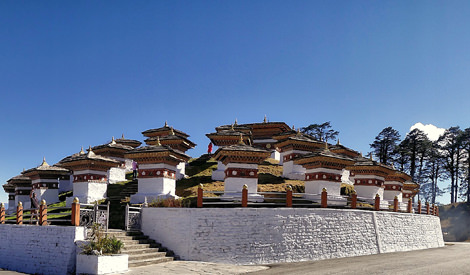 Before heading to Phuntsholing, we ride North East to Dochu la Pass. The pass is 10,171 ft high and has a concentration of 108 memorial Chortens. After a short break at the pass we head back to the border town of Phuntsholing to PARTY and celebrate our last night in the magical land of Bhutan.
Day 7
Apr 20
Saturday
Day 7
May 18
Saturday
Day 7
Oct 5
Saturday
Day 7
Nov 9
Saturday
PHUNTSHOLING TO SILIGURI & DEPARTURE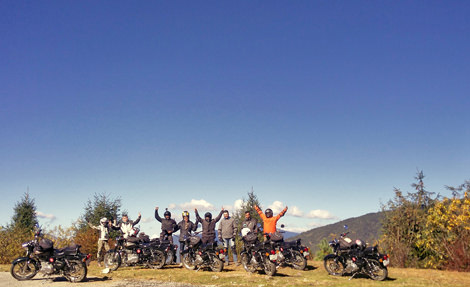 We bid farewell to Bhutan and start the return journey for India after completing the immigration formalities at the border. The ride is a short one and we would be in Siliguri by mid afternoon. We would have a few rooms reserved at the hotel for you to freshen up before you leave for Bagdogra airport after a ride of a lifetime.